Bitfarms sold more Bitcoin than it mined in Q3
Bitcoin mining firm Bitfarms' third-quarter report shows that the miner sold more BTC than it made in the quarter -the miner sold 2,595 BTC while mining 1,515 BTC.
The miner focused on strengthening its position to survive the bear market by cutting costs and reducing its debt obligations significantly during the quarter.
However, the miner still holds $55 million in machine-collateralized debt and $23 million in Bitcoin-collateralized debt.
Bitfarms' liquidity under spotlight
Bitcoin mining analyst Jaran Mellerud said that while Bitfarms' Bitcoin sales helped it to reduce its debt burden, the miner does not have much Bitcoin left.
Mellerud said:
"(Bitfarms) holds $38 million of cash and 2,064 bitcoin. The problem is that 1,724 of these Bitcoin are pledged as collateral, giving the company a total unpledged liquidity of only $44 million."
The price of the flagship digital asset poses another major challenge for the firm as it must maintain a collateral value of 125% to the loan.
Mellerud said the miner's entire Bitcoin stack of 2,064 equals 141% of the loan. So, if BTC's price fell to around $14,200, the company's loan could be liquidated.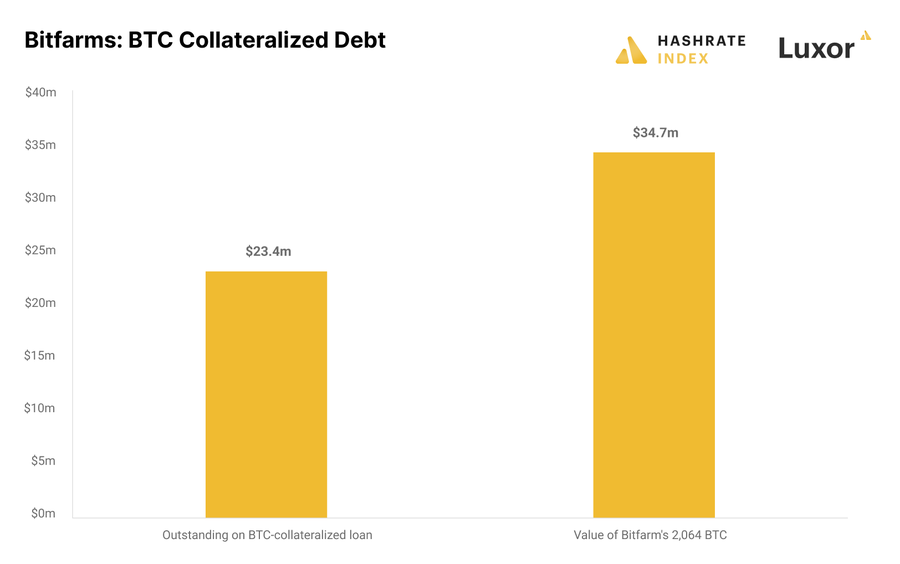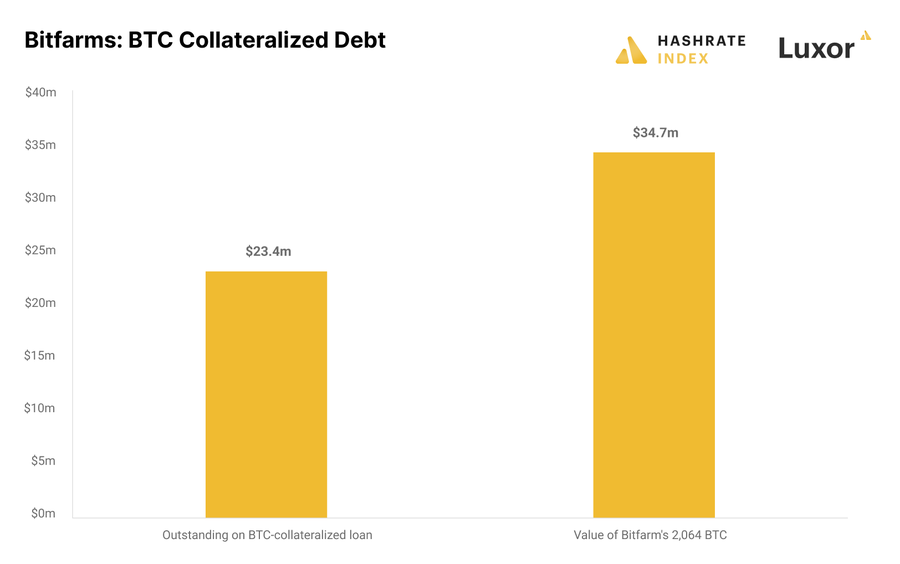 Source: Hashrate Index
Following this, analyst Mellerud concluded that "the company's liquidity is insufficient to fund its planned expansions."
Bitfarms keeps costs down
Bitfarms' third-quarter report revealed that the firm's general and administrative expenses were down 15% to $6 million, excluding non-cash share-based compensation.
Speaking on this, Mellerud praised the firm for minimizing its production costs while keeping its administrative costs relatively low compared to competitors.
According to Mellerud, Bitfarm has access to cheaper electricity as its rates are significantly lower than the industry median of around $0.05 per kWh. Bitfarms' expects to pay $0.027 per kWh in Washington, $0.03 per kWh in Argentina, and $0.046 per kWh in Quebec.
Source: Hashrate Index
Meanwhile, most of the company's revenue comes from its Quebec facilities which account for over 80% of its revenue.
However, the Bitcoin mining firm's plan to expand into South America is stalling due to bureaucracy. Mellerud noted that the company might need external financing or cut back on its expansion plans.